Holiday shoppers flocking to online retailers [Infographic]
While American consumers continue to embrace the age-old traditions of the holidays – greeting cards, yuletide carols and presents for all – consumer shopping habits are showing a big shift. Internet sites are more popular than ever among shoppers.
More than three-quarters of Americans said they plan to shop for gifts online this holiday season, according to a new survey by Deluxe Corporation. (The survey, conducted by telephone Sept. 6 to 9, 2012 by ORC, has a margin of error of plus or minus 3 percentage points.)
The nationwide survey also revealed some positive news – and potential ways to attract more customers – for small businesses and boutique stores. For instance, shoppers in certain age groups and income levels still prefer to do their shopping in person. And when it comes to sending holiday cards and wrapping presents, traditional methods still prevail.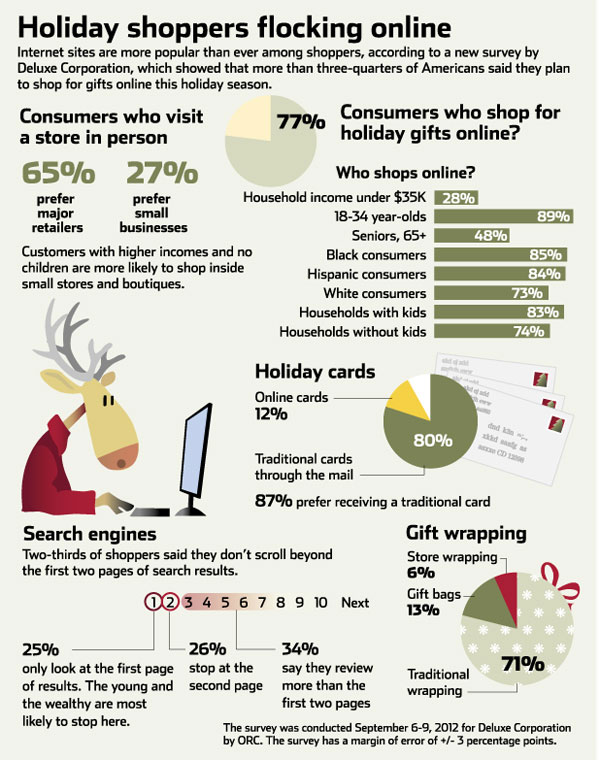 Internet shopping is most popular among younger and multicultural consumers. Survey respondents between 18 and 34 make nearly 90 percent of purchases online. The number is lower for older shoppers, though people 65 and older also shop online in large numbers (48 percent). Overall, African-Americans (85 percent) and Hispanics (84 percent) shop online more than white consumers (73 percent). While most online customers (60 percent) generally purchase gifts from major retailers, a primary reason may be the fact that two-thirds of shoppers said they don't scroll beyond the first two pages of search results.
"It's a major problem for a lot of small businesses," says Jay Bean, founder of OrangeSoda, a search engine optimization and online marketing firm. "Competing with the major retailers of the world makes it critical for small businesses to be found quickly online. In order to show up in the first few pages of search results, it's imperative that your site is optimized for the keywords that customers are using to find you."
Printed holiday cards remain popular. Nearly 90 percent of survey respondents said they prefer to receive traditional cards versus an electronic one. "We all like getting a card in the mail – it makes us feel special," says Dave Lessing, general manager of PsPrint, an online printing company. "A printed card makes a personal statement. It's something that people can hold in their hands, reminding them of the sender. Many people collect their cards every year to keep a permanent reminder of that specific holiday season, and all the greetings they received from family and friends."
Customers with higher incomes and no children are more likely to shop inside small stores and boutiques. Shoppers whose annual incomes top $100,000 said they visit stores in-person more often than those who earn less. Seventy-five percent of parents said they're more likely to shop at major retailers, while just 60 percent of people without children preferred the big chains.
"Many shoppers prefer smaller businesses because they can cater to the needs of individuals in ways that major retailers simply cannot," says Megan Kavanaugh, executive director of Bags & Bows, a retail packaging firm. Referring to the Deluxe survey results – which showed that 91 percent of gift-givers wrap their own presents – Kavanaugh explains, "By offering custom wrapping or providing attractive signature gift bags, small businesses can eliminate the wrapping hassle – and help the customer's gift stand out."
Yellow Pages
Find local listings of businesses and services near you. Get driving directions, reviews and ratings, phone numbers, addresses and more.
Financial Advice from Jim Cramer